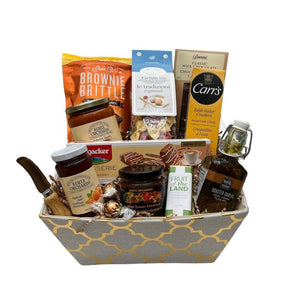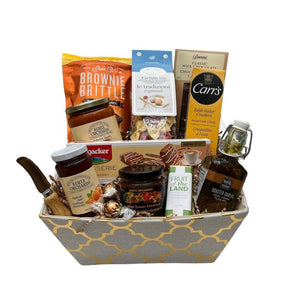 On Sale
Ultimate Housewarming
This elegant fabric basket is packed with pantry favorites: Italian pasta; local, farm fresh Butternut Squash Pasta Sauce; Wildly Delicious Roasted Garlic Olive Oil;  Kurtz Orchards Gourmet Tapenade; Carr's Water Crackers;  Kurtz Orchards Farm Fresh Apricot Jam; wood handled spreader with stainless steel blade; Donini Classic Milk Chocolate; Sheila G's delicious & unique Salted Caramel Brownie Brittle; Loacker Patisserie Biscuits; Fruit of the Land chocolate; and Hazelnut Truffles from Italy.
All wrapped in a keepsake basket with handmade bow.
Perfect for any occasion.