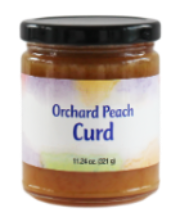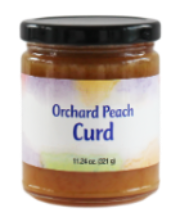 On Sale
Orchard Peach Curd
Orchard Peach Curd is a perfect topping for cheesecake, spread in meringue nest; as a topping for Angel cake dessert shells; on a scone; or to top or dip a pizzelle. 
Mix Orchard Peach Curd with peach yogurt for a perfect filling for mini tart shells or phyllo shells. Top with whipped cream and a slice of peach for a delicious Summer dessert.
Make a parfait: Layer Peach Yogurt and Peach Curd. Top with whipped cream and fresh peach slices.
Our farm fresh Peach Curd is a mixture of peaches, butter, sugar and eggs and is the easiest. most delicious topping or filling.